어스틴 (오스틴) 텍사스 각종 통계, 순위, 평가 정보
오스틴 Top Employers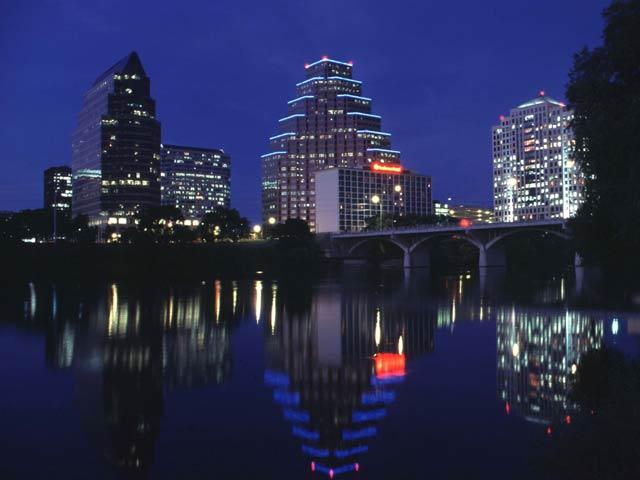 1. The State of Texas
66,600 employees
512/463-2000
www.governor.state.tx.us
With the state's major government operations headquartered in Austin, the State of Texas is the Austin area's largest employer. Largest state agencies include the Texas Comptroller of  Public Accounts; Texas Department of Transportation; Texas Department of Public Safety; Texas Water Development Board; and the Texas Department of Health.
2. Dell, Inc.
24,600 employees
1 Dell Way
Round Rock, Texas 78682
512/728-4100
www.dell.com
Dell Computer Corporation(NASDAQ: DELL) ranks number two in Austin with nearly 25,000 employees. The company, which started in Michael Dell's college dorm room at the University of Texas, designs, manufactures and customizes computers and sells other hardware through its direct business model.
3. The University of Texas at Austin
13,577 employees
1 University Station
Austin, Texas 78712
512/475-7348
www.utexas.edu
As the largest university in the U.S., The University of Texas is one of Austin's top five employers. Founded in 1893, UT awarded its first law degree in 1884, and its first Bachelor of Arts degree in 1885. UT's annual budget is approximately $1.3 billion.
4. Austin Independent School District
10,714 employees
1111 W. 6th Street
Austin, Texas 78703
512/414-1700
www.austin.isd.tenet.edu
With 78,172 students, Austin ISD is one of the top urban school districts in Texas. It's also one of the largest employers in the Austin area, with more than 10,000 professional and support personnel and a budget of $731,621,459 for the 2004-2005 school year.
5. U.S. Government
10,200 employees
The federal government is Austin's fifth-largest employer with just over 10,000 employees. Besides the U.S. Postal Service, other government entities in Austin include the IRS, which operates a processing center that employs nearly 5,000.
6. City of Austin
10,000 employees
P.O. Box 1088
Austin, Texas 78701
512/974-2000
www.ci.austin.tx.us
Originally a buffalo hunting ground of Tonkawa Indians, Austin was permanently settled in 1838 as a trading post. Now, more than a million people live in the city named for Stephen F. Austin, who colonized Texas, and about 10,000 employees work to keep things running smoothly.
7. Seton Healthcare Network
9,466 employees
1201 West 38th Street
Austin, Texas 78705
512/324-1776
www.seton.net
The Seton Healthcare Network, a not-for-profit organization, is the leading provider of healthcare services in Central Texas - including Brackenridge and Children's Hospitals - with nearly 9,500 employees.
8. IBM Corporation (Austin Research Laboratory)
6,200 employees
11501 Burnet Road, MS/9460
Austin, Texas 78758
512/823-7876
www.research.ibm.com/arl
IBM Corporation's Austin Research Laboratory (ARL) was first created to explore the usage and expansion of microprocessor research through the growing technology market of Austin, Texas. With 6,200 employees, IBM is among Austin's top 10 largest employers.
9. Freescale Semiconductor (formerly Motorola's Semiconductor Products Sector)
5,600 employees
6501 William Cannon Drive
Austin, Texas 78735
512/895-2000www.freescale.com
With 5,600 Austin employees, Motorola spun off its semiconductor unit to create Freescale. The company, which also sponsors the internationally known Freescale Marathon, held each February in the Capital City, provides integrated communications and embedded electronic solutions through semiconductor chip design and manufacturing.
10. St. David's Healthcare Partnership
5,000 employees
98 San Jacinto Blvd., Suite 1800
Austin, Texas 78701
512/708-9700
www.stdavids.com
The St. David's HealthCare Partnership is a partnership between the St. David's HealthCare System and HCA. St. David's operates four comprehensive acute-care hospitals in Austin, including St. David's Medical Center, North Austin Medical Center, South Austin Hospital, and Round Rock Medical Center, plus outpatient surgery centers, a rehabilitation center, a psychiatric facility and occupational health services.
11. Round Rock Independent School District
4,400 employees
1311 Round Rock Avenue
Round Rock, Texas 78681
512/464-5000
www.roundrockisd.org
Round Rock ISD serves more than 37,000 students. During the past five years, the number of students has increased by 21 percent, and the district expects its annual growth rate of approximately 3.5 percent to continue.
12. Travis County
4,000 employees
314 West 11th Street
Austin, Texas 78701
512/854-9000
www.co.travis.tx.us
As the seat of government and resource for birth certificates, health and human services and other community services, Travis County ranks as Austin's 12th-largest employer.
13. Austin Community College
3,342 employees5930 Middle Fiskville Rd
Austin, Texas 78752
512/223-7000
www.austin.cc.tx.us
Austin Community College was established by the Austin Independent School District in 1973 and has since grown to seven campuses. ACC provides contracted training to many local high tech companies, as well as degree programs in specialized fields like manufacturing and technology.
14. Solectron Texas
2,900 employees
12455 Research Blvd.
Austin, Texas 78759
512/425-4100
www.solectron.com
Solectron is a leading provider of electronics manufacturing and integrated supply chain services for industries that rely on high-tech electronics. The company's Austin location employs2,900 of Solectron's 57,000 employees worldwide.
15. Leander Independent School District
2,800 employees
204 W. South Street
Leander, Texas 78641
512/434-5009
www.leanderisd.org
Leander ISD includes the cities of Leander, Cedar Park, Jonestown and portions of Northwest Austin. Leander ISD enrolled 18,116 students for the 2004-2005 school year - an increase of more than 1,300. The district's boundaries include Leander, Cedar Park, Jonestown and parts of Northwest Austin.
16. Applied Materials
2,700 employees
9700 Hwy 290 East
Austin, Texas 78724
512/272-1000
www.appliedmaterials.com
Applied Materials, which manufactures systems for processing silicon wafers and other semiconductor products, employs about 16,000 worldwide. Just fewer than 3,000 are in Austin, handling research, development and manufacturing.
17. National Instruments
2,058 employees
11500 N. Mopac Expwy
Austin, Texas 78759
512/683-0100
www.ni.com
Headquartered in Austin, NI specializes in virtual instrumentation and automation and has more than 3,100 employees and direct operations in 41 countries. For the last five years, Fortune magazine has named NI one of the 100 best companies to work for in America.
18. Both AMD and SBC are tied for Number 18 on the list of Austin's Top 20 Largest Employers with 2,000 employees each.
Advanced Micro Devices (AMD)
2,000 employees
5204 E. Ben White Blvd.
Austin, Texas 78741
512/602-1000www.amd.com
Based in Sunnyvale, California, Advanced Micro Devices (AMD) is a global supplier of integrated circuits for the personal and networked computer and communications markets. Its Austin location is the center for the company's "Fab 25" plant, which produces Flash memory products.
SBC Communications (SBC Labs, Inc.)
2,000 employees
9505 Arboretum Blvd.
Austin, Texas 78759
512/870-2065
www.sbc.com
Telecommunications giant SBC chose Austin as one of the location for its SBC Labs operation, which provides technology consulting and expertise to SBC Communications companies.
19. Texas State University San Marcos
2000 employees
601 University Drive
San Marcos, Texas 78666
512/245-5111
www.txstate.edu
Texas State University is halfway between Austin and San Antonio on the San Marcos River. Formerly Southwest Texas State University, the school was founded in 1899 and offers degrees in 115 undergraduate programs, 84 masters programs and 6 Ph.D. programs in seven colleges.
20. Pflugerville Independent School District
1,800 employees
140 Pecan Street
Pflugerville, Texas 78660
512/594-0000
www.pflugervilleisd.net
Pflugerville ISD serves 16,575 students in this north Austin suburb with 1 pre-K-2 primary, 14 elementary, 4 middle and 4 high schools. Pflugerville is home to more than 25,000 residents, many of whom work for technology companies in the area, including Dell, Samsung, IBM, Applied Materials and others.